Story Of Sam Bellamy and the Glory Years of KMET
written by Don Barrett
Originally appeared at
www.LARadio.com
on August 12, 2003
The Met Meets
Its Maker
The 70s was a male-oriented decade in pop culture. A recent documentary on the era titled it Easy Rider to Raging Bull. Gads, was there ever a decade of better movies? The Wild Bunch, Midnight Cowboy, The Godfather, Mean Streets, and French Connection. Setting the stage for this testosterone generation were movies like Easy Rider and Bonnie & Clyde.
L.A. radio was male driven with free-form rock 'n roll. Think Aerosmith, Pink Floyd, KISS, Black Sabbath, Grand Funk, Deep Purple, Clash, Alice Cooper, Bad Company, and Bruce Springsteen and the E Street Band. Mirroring this explosion in male-driven, cutting edge music was free-form rock 'n roll best exemplified at 94.7fm/KMET, "the Mighty Met." Setting the stage for the 'Met, were stations like KPPC and KROQ. Classic "underground" stations, one of which started broadcasting from the basement of a church.
Arguably, KMET was the most successful AOR (Album Oriented Rock) radio station in the country during the 1970s and early 1980s. It certainly was the most profitable.
What the heck was KMET? Why do people wistfully drift off to a nirvana state of being when you mention "the Mighty MET?" It was a state of mind. If F. Scott Fitzgerald took a snapshot of the Roaring 20s in The Great Gatsby, KMET was a reflection of the times in the 70s and early 80s, and the times, they were a' changing. Political unrest. Unpopular war. Free love. Sex. Drugs. And Rock and Roll. It was the Reagan Era and the Moral Majority. Young people called themselves the "Immoral Minority."
With all this maleness dominating what we saw on the screen and heard on radio, it seems a bit ironic that leading the charge when KMET was the standard bearer for free-form rock radio in the country, was a woman. Outside of her tight circle of Metromedia jocks and executives, not much was known about the program director Sam Bellamy. She was at the vortex of the free-form movement in Los Angeles. How many people confused her for a male Sam? How did she get the power to program the most profitable free-form station in the country? Did she rule with an iron fist or was there a plan?
Pat "Paraquat" Kelley, KMET newsman and writer/reporter of the offbeat Friday Fish Report, said KMET would never have been successful if it were not for Sam. Pretty high praise for a guy who spent a decade with the station.
Jim Ladd said that Sam was "a true pioneer." Sam may have been the first woman pd of a major market station in the country. "Sam was loved by the entire staff," said Ladd. "I remember her for her relentless defense of the air personalities. She was the one who stood between the jocks and upper management, and she always did her best to protect KMET's integrity. I also remember her very fondly for her lightning wit and rapier like sense of humor. I could always talk to Sam about anything. She was a good friend as well as a great boss."
And management? What did they think? Bob Griffith, general sales manager for much of her time at KMET, raved about her performance as a programmer and her skill working with the sales challenges. "Sam didn't take shit from anyone," Bob said recently when describing his relationship with the former pd.
For those of you who arrived in L.A. after 1985 or weren't paying much attention to the radio during the 70s and early 80s, KMET was arguably one of the top 7 most important music stations in the last half century – KMPC (MOR), KFWB (Top 40), KRLA (Top 40), KHJ (Boss Radio), KIIS (CHR) and KROQ (Alternative). KMET stood alone as the pantheon of free-form radio, consistently beating its archrival, KLOS. But Hollywood is all about perceptions. And the perception is that KMET reflected the disenfranchised, the hippies, free love, dopers and those who loved sex, drugs and rock 'n roll. But the appeal of KMET crossed all demographic lines. An April/May 1978 ARB, listed KMET as the #1 station in Persons 12-49.
A few years ago when the Museum of TV in Beverly Hills allowed a salute to radio, KMET was featured and on the panel were Raechel Donahue, Jim Ladd, Richard Kimball, Dusty Street, Jeff Gonzer, Paraquat Kelly, and JJ Jackson. The audience in the auditorium was made up of aging hippies who hung on every word. Somehow you saw a quiet desperation in the gaze of those who were watching their heroes that they were hoping for an announcement that KMET was returning. The auditorium would have erupted into deafening screams of delight.
But times have changed. KMET caught a sliver of history, buckled in and rode the bucking bronco for a decade. That's a long time in radio years. KHJ/Boss Radio enjoyed its best success for perhaps half that time. Top 40 KFWB, maybe got seven good years. And the counter culture is missing from our lives. There is no Kent State. The Free Clinic has other concerns these days.
Ah, but for a number of years in the tumultuous 70s and 80s, KMET was it, a perfect mesh of programming and sales.
Who is Sam Bellamy? How did she get to ride herd over this mostly male bastion of testosterone? To get the full perspective we have to go back to Phoenix. That's where her rock 'n roll radio roots began to take shape. When this pre-teener turned on the radio, there was a Top 40 war going on between KRIZ and KRUX. "I was KRIZ girl," she remembered. "Radio is such an important part of a kid's life, especially when there was nothing to do. There was that rivalry between the two, but, absolutely, KRIZ was my station."
Fate and destiny were shaping up in the Arizona desert, unbeknownst to any of the participants. The general manager at KRIZ was L. David Moorhead. Little did David or Sam have a clue that a decade later they would come together at Metromedia Square to make radio history.
"As a teen I had a radio glued to my ear. And, I wasn't just listening to the music — I was catching on to the formatting of the whole presentation of the entertainment that was radio. I understood what the stations were doing. I 'got it,'" said Sam.  
Sam went to Phoenix College and earned an AA degree in business. "I moved to California and got a job in a bank while working out a strategy to break into the radio business."
Sam had a cousin working at Billboard in the charts department who helped Sam get an interview. "I got to work with Claude Hall and work radio conventions, which were so much fun. Billboard was the only game in town and the magazine was so respected. Everyone just loved Billboard. And it was the bible." Claude remembers Sam as being phenomenal. "She immediately identified with radio people and she was extremely valuable to me," said Claude.
Sam learned that she was a great coordinator and communicator with radio people. At one of the radio conventions she met L. David Moorhead, the general manager at KMET, and he was impressed. He asked her to be his secretary, but she declined. She wanted to get into programming. Several months later, at Claude Hall's urging, Moorhead offered her a job as programming assistant. She accepted and became programming assistant to Shadoe Stevens. It was 1973 and it was an entry-level job. "Shadoe became my mentor in my early days at KMET. I have a lot of admiration for him to this day."
"The next thing I know, Sam is driving a Porsche 911. I often wondered if I did her a favor or not, getting her the KMET position. She got the program director position on her own. I've always thought that her life would have been better if she had remained at Billboard. She would have been radio-tv editor eventually and I think she would have been great and I think she would have been happy," reflected Claude.
But that didn't happen and Sam jumped into her new role with Shadoe. She remembered that they went through many changes. "Shadoe tried really hard. For one percent of the people, the station was really creative. Really awesome, but his format didn't have enough of a fan base to attract ratings that would make the sales department happy. People who liked it, loved it and really got it," said Sam. "It just wasn't mass appeal. It was an extremely creative concept, but people just were not getting it."
She didn't think it was her place to criticize Shadoe's vision. Only in retrospect does she make the observation about Shadoe. "I was enjoying it actually. I was enjoying what it was and wondering if it was going anywhere. It was my first radio gig and it was wonderful working with Shadoe Stevens. It was major for me."
On April 28, 1975, Tom Donahue died, at the age of 48. Tom was considered the "granddaddy" of free-form radio, achieving his success and legend in the City by the Bay. The world of Haight-Ashbury, the Fillmore and Golden Gate Park smoked in the world of Tom's underground radio. He was in the Southland briefly in the 1960s at KPPC and KMET. Shadoe's concept of KMET wasn't working and David Moorhead brought Tom's widow Raechel Donahue to the station. "He made her music director. Shortly thereafter Thom O'Hair was made promotions director. After Shadoe left, Moorhead set up a triangle. Instead of having anyone in charge, I was the operations manager, Raechel the md, and O'Hair promotions. They looked at me like an ant who was lucky to be there," said Sam.
Thom and Raechel worked together in San Francisco and had a vision for KMET. "They had their ideas about the station and I had mine. They pretty much tried to run all over me. We were trying to get a direction for the station and they kinda tolerated me because they knew they had to." The triangle was created to make all sides equal. Each participant had a strength. "It limped along like that for awhile until it got to the point where I was a little stronger and I was becoming more aggressive in my role," remembered Sam.
Sam can point to the turning point in the change for KMET and for herself. "When Raechel started adding music that made no sense to me based on where we were going and what we were trying to say. Yes, we were doing free-form, but when you heard Peggy Lee following Led Zeppelin, it was just too all over the map. It wasn't going to get ratings. It would alienate too many people. It wasn't working and the ratings were attesting to it. Thom, Raechel and I were in a constant battle as to what KMET was all about. Eventually, they got fed up with my determination and quit, one right after the other."
The Harvard Business School is known for pitting two executives against each other. They claim it encourages survival of the fittest. KMET went Harvard one better, putting three into battle. Sam survived.
With Sam's leadership the station grew to a place of dominance in the AOR and radio world. It was a force to be reckoned with. And a creative staff. And a sales department that wanted to sell more than 9 minutes of commercial time.
Barry Freeman was head of West Coast promotion for Atlantic Records during this period of KMET's success. The company was huge in the 1970s with top artists like Led Zeppelin and the Rolling Stones. "KMET was the most important AOR station in the country," remembered Barry. "Sam was the answer in making it all good."
The local bands were big fans of KMET. "It was not unusual for David Lee Roth or other artists to just drop by the station and walk in to say hi," remembered Sam. "They weren't there on an official 'visit/interview' accompanied by their manager and/or record rep, they just wanted to hang out for a while."
As the station grew and became more visible, the challenges for Sam became more acute. "Sometimes our content offended people. Many times things the personalities did, management didn't like and I took the heat," Sam reflected. "Most of the time the jocks never knew about it. It was my job to take the heat. You had to understand I was their biggest fan. The on-air people cracked me up."
Sam rarely came down on the personalities about a complaint from a listener or the gm or the sales department. "I didn't want to step on their creativity. Besides, I usually thought the 'offending' bit was funny. I liked what they were doing and I knew that it was working for the audience. We weren't, after all, trying to please the head buyer at an ad agency or our general manager's wife. We were going after our target audience and they were digging it," remembered Sam.
Sam talked about the KMET lineup. "I hired talent. I didn't hire disc jockeys." What did she look for in talent? "You had to be a talented person who could think on your feet, improvise, and have a personality of your own. Anybody could play records." Sam brought in Jeff Gonzer for mornings, Cynthia Fox, "Paraquat" Kelley, Jim Ladd, Jack Snyder (music), Hugh Surratt (co-music director) and David Perry. Mary Turner was the only holdover from the previous regime. We just had what our people brought to the radio. We had no computers and no packaged bits."
"The community loved us because we were part of them and their concerns. We got involved with Greenpeace and marijuana legalization and we were very involved with the music. We were also very visible and approachable with our audience," reflected Sam. This was a time long before professional morning prep services and canned bits. "The personalities answered their own phones, ad-libbed the promotional material, created their own shtick and talked with the listeners. And, I answered personally every single letter ever received at the station that concerned programming," said Sam.
"I didn't day-part the music, which was standard operating procedure back then. You were supposed to play the softer music in morning drive and during the 'housewife' shift (10 a.m. – 2 p.m.). You weren't supposed to kick into high gear until afternoon drive. While our competition was playing the rock ballads and softer rock in the morning, we were blasting Whole Lotta Love and Crazy Train at 7 a.m. We were rock 'n roll 24/7."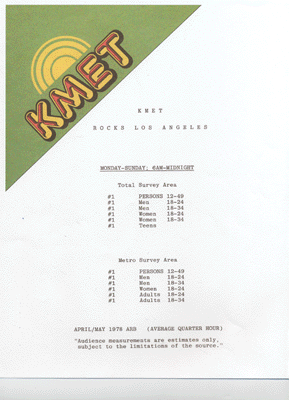 In 1978, Howard Bloom replaced David Moorhead as general manager. Howard then brought in Bob Griffith as general sales manager. Howard had tremendous energy and Bob was as crazy as anyone on the air. Programming loved working with him."
"I had tremendous respect for Sam. I never wanted to hurt or bastardize her efforts because her success was tied to our success. I would have to have been suicidal to want to change anything," revealed Bob, now head of the West Coast office of the Radio Advertising Bureau (RAB). "The partnership she and I had with sales and programming was really unique then and certainly would be now. I really enjoyed working with her."
But they had their battles. It was not only adhering to nine commercial units an hour, it was the content. Sam remembered the high-pitched, high-intensity spots for a chain of electronic stores. "The chain was a huge advertiser, but we got so many complaint calls. The voice on the spot was just offensive as hell," confided Sam. "This was a 52-week advertiser and we asked them to take a different approach. They wouldn't budge. I wouldn't budge." These spots didn't air under Sam's regime.
Another problem area between sales and programming were the spots where the jocks were asked to read copy that would use the word our – come on down to our sale or best prices in our history. It was okay for the advertiser to pay the personality to personally endorse a product, but not to say our in the copy, as if the air personality worked for the advertiser.
As with all good times in life, they eventually come to an end. For Sam it was when Metromedia hired Lee Abrams to oversee their AOR stations. KMET was the most successful in the chain and Sam took exception to Lee's involvement. "It was like a funeral the day he started pulling records from the studio. It was a sad day," lamented Sam. "Lee named a music director. He had a playlist. He had songs that were acceptable and songs you could not play. That's the way he had always done it. That was formula radio, but it wasn't what we were about and what was working for us."
But Lee changed all that. He brought in an hourly clock and had so many A, B, and C records that you had to play each hour. After you played so many from each category, if there was any time left over in the hour, you could play what you wanted from an approved playlist. "Rotation is what drove me crazy. A half hour rotation for A's was too much. He didn't give the listeners any credit for being able to tolerate more than that type of format."
She wasn't a believer. "I listened to everything he had to say and saw one or two small things that might work for us. He wanted to take away all of our identity and integrity and format us into his own creation." KMET's personality was crushed. You could tell the personalities felt stifled," said Sam. She believes that Lee, who spent most of his time in New York, told the executives that the station was going into "the shitter" with Sam and that she wasn't doing it his way.
"Lee soon put Michael Harrison in as his puppet program director, which was a disaster and lasted about an hour and a half in the scheme of things. Lee thought he could control him, but Michael had his own ideas so Lee had him out of there before he even warmed up the chair."
Sam took some time off trying to figure out what to do with her life. "I was pretty disillusioned and not sure I wanted to get back into it in its current form." One of Sam's closest friends was engaged to an attorney who conducted classes on being a paralegal. She suggested that Sam attend the class. She liked it and joined an Encino law firm.
About a year later, Bill Ward had taken over the Gene Autry properties and they were going to put a pre-packaged satellite-fed AOR format on KMPC/fm (101.9). Bill wanted Sam to take over and start a live, local morning show and perhaps build from there. "It was the worst satellite experience ever," said Sam. "My heart never got into it."
A year later Sam wasn't having any fun. She returned to her law firm and never looked back. For the past 13 years she has just been a radio fan and listener. Her legal expertise is in Indian affairs and gambling laws. Her firm had a major impact with the recent Indian initiative. "It's a very rewarding field."
In 1990 Sam met the man of her dreams. "It was a marriage made in heaven," she cooed. He was an Imagineer at Walt Disney and helped design the amusement park rides in the States and Disney Paris. "We were just meant for each other." A decade later he was diagnosed with lung cancer. "From the time he was diagnosed until his death, it was only 8 months. I lost him just like that."
The loss of Sam's husband was only the beginning of a challenging two years that saw her lose her home and suffer a brain hemorrhage. The house she lived in for 17 years was part of a city feasibility study to build a new fire station. They gave her a lot of money for her home, but it still meant a major move and upheaval.  
The day after New Year's 2002, Sam was struck with a brain hemorrhage. "I was on the brink of death for 8 days, but I was one of the lucky ones who got care right away before it bled out," she said. "I started getting dizzy and was rushed to UCLA where I had brain surgery. They determined once they got in there, it was genetic – something I was born with and I carried it around all these years." Turns out that her grandmother on her dad's side died of the same thing. There was no treatment in her day and she died in her 40s.
By early summer 2002 and after much rest, she returned to her law firm. Does she miss radio? "I miss the good things, I don't miss the politics. As we concluded an afternoon interview at her Woodland Hills hilltop home, she volunteered: "We believed that if you create the right programming, that sales would follow." Whotta' concept!